How To Delete Telegram Account Permanently & Instantly On iPhone, Android or Desktop
Telegram is a popular instant messaging service whose features are seen more than WhatsApp. It is available as a free app on both Android and iOS and can be run on multiple devices at the same time with the same Telegram Account. Signing up for Telegram is very easy as all you have to do is enter your mobile number in the app. Also it is very easy to delete your account. So if you also want to delete your telegram account. We are telling a trick by which you can easily know that how to delete Telegram account permanently and instantly on iPhone and Android.
Deleting a Telegram account will remove all your data from Telegram's system. Messages, groups and contacts associated with the account will be deleted. The groups you create will remain and their members will still be able to chat with each other. Their administrators will retain their authority. This is irreversible and therefore if you log back in with the same number, you will appear as a new user and your contacts will be notified. Like most apps, Telegram also gets rid of all your data and chats when you delete your account. And you can't retrieve anything after you have deleted your telegram account.
How To Delete Telegram Account
There are a few different ways to delete your Telegram account.
Method 1: How To Delete Telegram Account Using Web Browser On Desktop (Instantly And Permanently)
Deleting Telegram account takes a few months and people might not want to wait that long. So, for them, Telegram offers a quick solution that works out through any web browser. Follow these steps to delete Telegram account right away.
STEP 1: First of all you have to go to Telegram Deactivation Page, we suggest you to go through desktop browser only.
STEP 2: Enter your phone number with your country code in International format.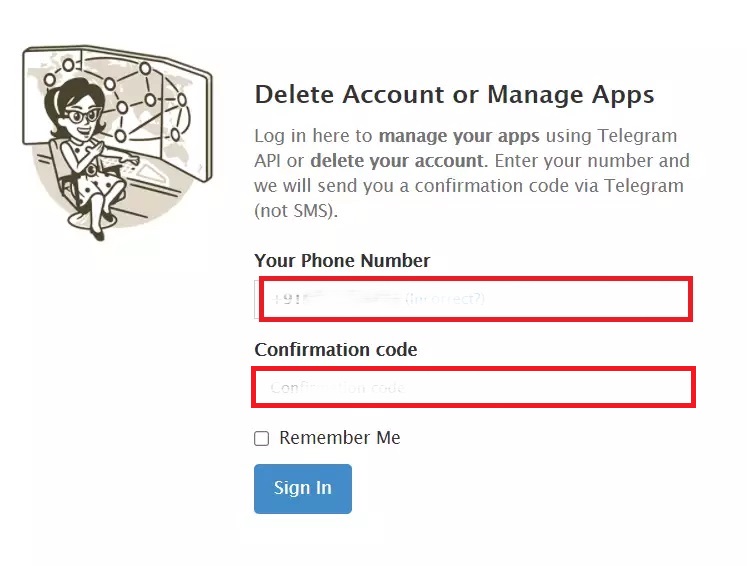 STEP 3: Now again a verification code will be sent to you on the Telegram app on your device as a message from Telegram.
STEP 4: Now you have to go back to your browser and enter that code. After that click on Sign In.
STEP 5: After doing this you will see 'Your Telegram Core' page and three options on this page – API development tools, Delete account, and Log out option. So you have to click on the option of Delete account.
STEP 6: In the next page, you have to explain why you want to delete your Telegram account though it is optional.
STEP 7: Now you have to click on the button next to Delete My Account.

STEP 8: After this now you will see a pop-up in which option will be Yes, delete my account, then click on it.
STEP 9: In this way your account on Telegram will be deleted forever.
Method 2: How To Delete Telegram Account Permanently On Android
For Android users, Telegram does not offer a direct way to delete Telegram account. Instead, you have to go through the deactivation process. This works through the self-destruct option available on the Telegram Android app. You can select the time frame based on which your Telegram account gets disabled. After this, all your contacts and messages will be gone forever
STEP 1: Open Telegram App on your Android Phone
STEP 2: Click on the three horizontal lines.
STEP 3: Select Settings.
STEP 4: Over there, select Privacy and Security tab.
STEP 5: Go to If Away For the option.
STEP 6: Select the idle time frame after which your Telegram account will be disabled forever. You can choose from 1, 3, 6 and 12 months. By default Telegram is set this to 6 months.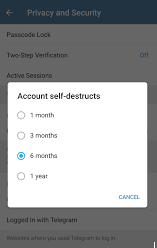 If you do not use Telegram account for the selected time frame, Telegram will permanently delete your account on Android.
Method 3: How To Delete Telegram Account Permanently On iPhone
The process is the same for iPhone as it is for Android. Here's how you can permanently delete your Telegram account on iPhone:
STEP 1: Open Telegram on iPhone and go to Settings
STEP 2: Click on Privacy and Security
STEP 3: Scroll over to If Away for option
STEP 4: Click on 6 months to get more options, up to 12 month
If your Telegram account remains idle for 1, 3, 6 or 12 months, the Telegram account will be deleted along with all messages and contacts.
Note: If you don't want to wait for your account to self-destruct, you can delete your account manually using web browser.
Frequently Asked Questions(FAQs)
1. Can a accidentally deleted Telegram account be recovered?
No, once deleted you cannot restore again you have to login again.
2. How to recover data after deleted Telegram account?
You will not be able to recover data like files, photos, videos or contacts after telegram account is deleted.
3. How to delete messages in Telegram?
Select the particular message/chat you want to delete. Long-tap on it for few seconds. Now you get the Delete icon on the top-right of the phone's screen. Click on the icon and reconfirm that you wish to delete the message. This method works on both Android and iPhone.
4. How can I delete my Telegram account in one minute?
You can delete your telegram account in one minute using web browser method. Which is defined in above how to use it.
Conclusion
So, now that you know how to export your data and delete your account through your browser and through the app.